Copy equipment giant HP Inc. turned down the much smaller Xerox Holdings Corp.'s acquisition overtures twice in one week as the exchange of statements between corporate leadership grows increasingly hostile. From an anticompetition perspective, the case raises the interesting question of how the "failing firm" defense could come into play.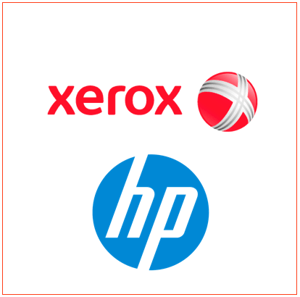 A deal would bring together the world's second largest copier company, HP, a company whose leadership position was once so strong that its very brand name, derived from the word "xerographic" in 1938, became a verb used more often than the word "copy" itself. Xerox is also credited with innovations that brought us tools like the mouse and ethernet networks.
But Xerox, which has long since fallen from the top of the copier industry, was met with a flat-out rejection of its offer to get its mojo back by acquiring HP. Xerox offered HP $17.00 in cash and 0.137 Xerox shares for each HP share or $22 per share, or $27 billion overall. Skeptics wondered whether Xerox could execute such a deal, given it is "only" a $9.2 billion business, a third the size of HP. The skeptics were right. On Nov. 17 the HP Board of Directors informed Xerox that its offer was not in the best interests of shareholders as it "significantly undervalues" the HP business.
In its letter to Xerox Vice Chairman and CEO John Visentin, HP wrote that its board was concerned about the "potential impact of outsized debt levels on the combined company's stock." While saying it remained "ready to engage" with Xerox to better understand its business and its thinking around a merger, the HP board rejected the bid unanimously.
"We recognize the potential benefits of consolidation, and we are open to exploring whether there is value to be created for HP shareholders through a potential combination with Xerox. However," the HP letter to Visentin continued, "… we have fundamental questions that need to be addressed in our diligence of Xerox. We note the decline of Xerox's revenue from $10.2 billion to $9.2 billion (on a trailing 12-month basis) since June 2018, which raises significant questions for us regarding the trajectory of your business and future prospects. In addition, we believe it is critical to engage in a rigorous analysis of the achievable synergies from a potential combination. With substantive engagement from Xerox management and access to diligence information on Xerox, we believe that we can quickly evaluate the merits of a potential transaction."
Xerox had said it could generate $2.3 billion by selling its 25% share in the joint venture, Fuji Xerox Co., Ltd., to FUJIFILM Holdings Corp. In a Nov. 8, 2019, statement, Xerox also said it was selling to a Fuji Xerox affiliate Xerox's 51% stake in Xerox International Partners, a joint original-equipment-manufacturer venture between Xerox and Fuji Xerox. The companies also agreed to end the $1 billion lawsuit FUJIFILM filed against Xerox after last year's terminated merger. "Total after-tax proceeds to Xerox from the transactions, which included accrued but unpaid dividends through closing, are approximately $2.3 billion. Xerox expects to use the proceeds opportunistically to pursue accretive M&A in core and adjacent industries, return capital to shareholders and pay down its $554 million December 2019 debt maturity," according to Xerox.
Xerox did not take HP's rejection well.
"We were very surprised that HP's Board of Directors summarily rejected our compelling proposal …." Xerox CEO Visentin responded, "claiming our offer 'significantly undervalues' HP. Frankly, we are confused by this reasoning in that your own financial advisor, Goldman Sachs & Co., set a $14 price target with a 'sell' rating for HP's stock after you announced your restructuring plan on October 3, 2019. Our offer represents a 57% premium to Goldman's price target and a 29% premium to HP's 30-day volume weighted average trading price of $17." Visentin added that the offer was not, as HP said, "highly conditional" or "uncertain." "There will be NO financing condition to the completion of our acquisition of HP," the Xerox CEO said.
Xerox gave HP until today (Monday, Nov. 25) to accept the offer, otherwise it would take the case directly to HP's shareholders. "The overwhelming support our offer will receive from HP shareholders should resolve any further doubts you have regarding the wisdom of swiftly moving forward to complete the transaction," Visentin said.
But HP didn't need the whole weekend. Yesterday, on Sunday, Nov. 24, it rejected Xerox again via a letter signed by HP Chairman and CEO Enrique Lores and HP Board Chair Chip Bergh. They repeated that Xerox is undervaluing the company, adding that Xerox did not address HP's concerns about Xerox's ability to raise the cash or handle such a substantial debt burden. Lores and Bergh didn't seem to appreciate Visentin's attitude, either.
"It is clear in your aggressive words and actions that Xerox is intent on forcing a potential combination on opportunistic terms and without providing adequate information," the HP leaders wrote. "When we were in private discussions with you in August and September, we repeatedly raised our questions; you failed to address them and instead walked away, choosing to pursue a hostile approach rather than continue down a more productive path. But these fundamental issues have not gone away, and your now-public urgency to accelerate toward a deal, still without addressing these questions, only heightens our concern about your business and prospects. Accordingly, we must have due diligence to determine whether a Xerox combination has any merit."
And yet, things had seemed to be going so well. In June, Xerox and HP announced they were expanding their relationship. Xerox was to begin sourcing certain products from HP, many of which used Xerox software, and supplying toner for HP for these and other products. These printers use laser printing technology HP acquired from Samsung in 2017. Xerox and HP also agreed to partner in the Device as a Service (DaaS) market. Xerox said it would sell HP PCs and peripherals to its commercial customers under a DaaS model, and HP would make Xerox cloud-based content management available to its commercial PC customers in the United States.
As the HP leaders said, the relationship started to sour at least as early as August.
HP questions Xerox's resources and innovation.
HP offered additional specifics as to why it didn't find the deal attractive:
Xerox has missed consensus revenue estimates in four of the last five quarters.
Xerox's revenue has fallen from $10.2 billion to $9.2 billion (on a trailing 12-month basis) since June 2018, and this is expected to continue. Xerox management projects revenue declines of 6% in fiscal 2019.
Given how much of the Xerox business is based on contractual revenue, HP is concerned about the decline in customer Total Contract Value (TCV) in excess of revenue declines, which suggests Xerox's revenues may decline even faster in future years. HP noted that the TCV of enterprise signings (including renewals) in 2018 was down 13.9% in constant currency and Xerox's churn for 2018 was 18%, both data points which Xerox has stopped providing publicly since the end of 2018.
After a review of synergies based on public information and the "limited information" Xerox provided, HP said it does not agree with the value of potential synergies. "[I]t appears that your assumptions include significant savings that are already included in each company's independently announced cost reduction plans," HP wrote.
When Xerox exited the Fujifilm joint venture, Xerox essentially "mortgaged its future for a short-term cash infusion." HP feels this has "left a sizeable strategic hole" in the Xerox portfolio.
HP also took a shot that has to sting the once-heralded leader of innovation. "[W]e have concerns as to the state of Xerox's technology resources, research and development pipeline, future product programs, and supply continuity and capability.
HP said Xerox has not accessed the great potential of the Asia Pacific market.
The 'failing firm' defense
What's intriguing from an antitrust perspective is how the parties might use the "failing firm" defense in a hostile takeover scenario. The failing firm defense argues that a merger that substantially lessens competition is less harmful to competition than one party's failure and exit from the market. The defense requires a showing that the acquired company cannot meet its financial obligations, would not be able to successfully reorganize in bankruptcy, has been unsuccessful efforts to elicit other reasonable offers, and is succumbing to the only available purchaser.
We would expect to see that defense raised here given the high post-merger market share and years-long decline of both parties. But how will Xerox make the required showing without the cooperation of HP management? And, in this case the acquirer is arguably the greater "failure" risk of the two firms, making this use of a "failing firm" case a rarity, if not a first.
Copier industry landscape.
Xerox's global annual revenue was at $20.64 billion in 2011, $19.54 billion in 2014, and $9.83 billion in 2018. It's now a $9.2 billion company, with revenues generated from a combination of services and equipment. In 2016, Xerox services accounted for roughly a third of the company's global revenue. From 2012 to 2014 services generated more revenue than technology. That flipped in 2015 when service revenue dropped to a third of prior years.
HP's net revenue from its printing business was at a high of $29.6 billion in 2008. It fell to $18.26 in 2016 and bounced up to $20.8 billion in 2018.
Worldwide, Canon is the market leader, with 24% of the market. HP is close behind with more than 21% of the market. Xerox has been in the low single digits for the past two years. After Canon and HP, market leaders are Brother (11%), Epson (10%), Kyocera (7%), NEC (5.6%), Ricoh (2.5%). Some 18.5% of the market is attributed to "other" companies.
Statistics provided by Statista based on data from IT Candor. Additional statistics from HP and Xerox.
Edited by Tom Hagy for MoginRubin LLP.