Charles Schwab Corp. has announced it will acquire TD Ameritrade Holding Corp. for $26 billion in stock. But the merger should receive significant attention from the Antitrust Division of the U.S. Department of Justice and potentially affected private parties given the significant antitrust issues it raises.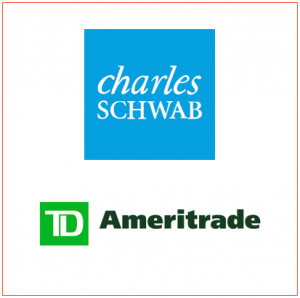 Registered Investment Advisor (RIA) Custodial Market
Both Schwab and Ameritrade are well known for their brokerage services, but both also serve as RIA custodians for money managed by independent advisors registered with the U.S. Securities & Exchange Commission. Schwab is the industry leader with an estimated 50% share in the RIA custodial market, and Ameritrade is third with an estimated 20% share. The merger will therefore create a 70% market dominator. By combining firms with 50% and 20% market shares, the merger presumptively violates Section 7 of the Clayton Act. As the Supreme Court explained in United States v. Phila. Nat'l Bank (374 U.S. 321, 364, 83 S. Ct. 1715, 1742 [1963]), "[w]ithout attempting to specify the smallest market share which would still be considered to threaten undue concentration, we are clear that 30% presents that threat."
The merger also presumptively increases market power for the post-merger entity. According to the DOJ's Horizontal Merger Guidelines, the RIA Custodial Market is highly concentrated, having a Herfindahl-Hirschman Index (HHI) of roughly 3,500 – 1,000 points above the "highly concentrated" threshold. The merger will increase the market's HHI by roughly 280 points, significantly more than the 200 point increase needed to trigger the presumption of increased market power.
The deal will leave Fidelity Investments in an increasingly distant second position, with an estimated 25% market share. Pershing LLC (a division of the Bank of New York Mellon Corp.) and E*Trade Financial Corp. will be among distant third-place competitors that combine to control less than 5% of this market.
Retail Financial Services Market
This merger will also impact the market for retail financial services. While this market is less concentrated than the RIA custodial market, it is experiencing pro-consumer disruptive changes from startups. For example, legacy brokerage firms recently adopted $0 commission trades because "mavericks" like Robinhood Financial LLC offered zero commission trades and had been taking market share as a result. Offering free trades eliminated a significant source of revenue for legacy firms, which now have to generate additional income by acquiring new clients or increasing revenue from other sources. Analysts predict commission-free trading will lead to industry consolidation given that adding new clients is the fastest way for legacy firms to cost-effectively offer this service. Schwab will add millions of new client accounts by acquiring TD Ameritrade.
The merger will combine fourth-place Schwab with seventh-place TD Ameritrade to create a new third-place entity in the retail financial service space that will control roughly 11% of the market and hold more than $5 trillion in client assets. Should the deal go through, it is estimated the retail financial services market will be divided as follows:
Fidelity, 17%
Vanguard, 12.5%
Schwab + TD Ameritrade, 11%
JP Morgan, 7%
Bank of America, 7%
Morgan Stanley, 6%
E*Trade, 1%
Schwab sees strategic benefits and attractive returns.
Schwab announced the merger on Nov. 25, explaining that Ameritrade stockholders would receive 1.0837 Schwab shares for each Ameritrade share held, a 17% premium over the 30-day volume weighted average price exchange ratio on Nov. 20.
"This transaction creates significant strategic benefits for the combined organization and is expected to deliver attractive returns for the owners of both companies, while further improving the investing and trading experience of both Schwab and TD Ameritrade clients. It allows Schwab to continue to add further scale on top of its organic growth, helping to drive sustainable, profitable growth and long-term value creation," the company announced.
Schwab hailed the market power the new company will enjoy, saying it nets Schwab approximately 12 million client accounts, $1.3 trillion in client assets, and approximately $5 billion in annual revenue. The company also predicts lower operating expenses, a stronger competitive position, and more diverse sources of revenue. "The resulting combined firm is expected to serve 24 million client accounts with more than $5 trillion in client assets; taken together, the two firms recently generated total annualized revenue and pre-tax profits of approximately $17 billion and $8 billion, respectively," the Schwab statement read.
Smaller competitors should consider a challenge.
Assuming no significant divestiture by the parties, the potential anticompetitive impacts of this merger on the RIA custodial market are clear. The post-merger entity will have sufficient market power to limit competition by pushing out smaller competitors, likely resulting in increased prices and decreased innovation for RIAs. While these facts should lead federal regulators to block the merger, it is increasingly difficult to predict whether this will happen. It is therefore important for parties potentially affected by the merger to consider getting involved, either by submitting material to federal regulators that explains the anticompetitive effects of the merger or filing a private action seeking to enjoin the merger.
Regulators must also consider the merger's impact on the financial services market. New firms entering this market have produced substantial pro-consumer benefits that have left legacy firms scrambling to adapt. Regulators need to preserve this competition and verify the merger will not allow legacy firms to erect barriers to entry moving forward.
Edited by Tom Hagy for MoginRubin LLP.