For a group of organizations whose very existence is based on fair world-class competition, the competitive spirit of professional sports leagues has drawn its share of challenges over the years, not for their sportsmanship in their arenas, but in their corporate board rooms.
Professional basketball, football and hockey leagues have faced challenges over whether they restrained trade by combining their power to control television broadcasts, merchandizing, and web media rights. The leagues have prevailed, withstanding court scrutiny over whether enabling the concerted actions of their independent members was legal under Section 1 of the Sherman Act.
But if antitrust law professor Marc Edelman is right, another challenge is likely, this time over the rights to control the use of baseball and basketball game statistics, precious data that is vital to the burgeoning online gaming industry.
Edelman, a Professor of Law at the Zicklin School of Business, Baruch College, City University of New York, recently wrote on Forbes.com that decisions by Major League Baseball and the National Basketball Association to combine and centralize ownership of sports data from their respective clubs could spark the next anticompetition challenge. The leagues are requiring their business partners to use only their data. Edelman said this "raises novel legal questions under both sections of the Sherman Act."
"As the market to offer statistical information to sports gambling providers in the U.S. continues to grow, it will be interesting to see if the emerging centralized league data policies adopted by at least certain U.S. commercial sports leagues will draw the red flag of either regulators or scorned private parties," Edelman wrote. "While it is far too soon to predict that a challenge to sports data practices will lead to a plaintiffs' victory—for example, Major League Baseball enjoys at least a narrow exemption from antitrust laws that some argue might apply—these centralized, league-wide data restrictive practices, if implemented in an absolute form, could reasonably give rise to a legal challenge from either the U.S. Department of Justice, a sports gaming provider or perhaps even a large-market U.S. professional sports team."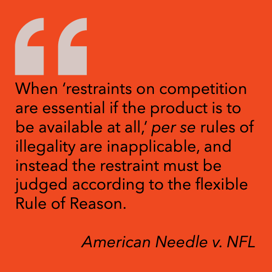 One of the leading cases on this issue was handed down by the Supreme Court in 2010 in a case brought by American Needle Inc., a leading producer of branded sports caps, against the National Football League (Am. Needle, Inc. v. NFL, 560 U.S. 183 (U.S. May 24, 2010)).
The issue in American Needle was whether the teams of the NFL, in forming a single licensor of all team intellectual property, constituted improper concerted action. A federal district judge and the Seventh Circuit U.S. Court of Appeals held that Sherman Act Section 1 did not apply because the league, the individual teams, and the newly formed licensing entity acted as a single enterprise to manage IP assets. However, the Supreme Court said the conduct was not categorically outside the coverage of Section 1.
The proper questions to determine whether antitrust laws were violated, the high court ruled, weren't whether the parties were separate entities or whether two entities had formed a joint venture. The proper question was whether the agreement joined together "independent centers of decision-making" and whether that caused an unreasonable restraint of trade, the Supreme Court determined, saying that "rule of reason" should have been applied by the lower courts.
The NFL teams did not possess either the "unitary decision-making quality or the single aggregation of economic power characteristic of independent action," the high court found. Each team is a substantial, independently owned, and independently managed business. They compete with one another for fans, ticket sales, managers, and players. And, the court said, the teams compete in the market for intellectual property.
"Football teams that need to cooperate are not trapped by antitrust law," American Needle continues. "The fact that NFL teams share an interest in making the entire league successful and profitable, and that they must cooperate in the production and scheduling of games, provides a perfectly sensible justification for making a host of collective decisions. But the conduct at issue in this case is still concerted activity under the Sherman Act that is subject to Section 1 analysis."
"When 'restraints on competition are essential if the product is to be available at all,' per se rules of illegality are inapplicable, and instead the restraint must be judged according to the flexible Rule of Reason. In such instances, the agreement is likely to survive the Rule of Reason," American Needle reads.
American Needle is nine years old. Time will tell if Professor Edelman is correct that online gaming companies -- which also face both regulatory and anticompetitive scrutiny -- will challenge league control of gaming statistics.
By foreclosing competition in the game-data market, the NBA and MLB leagues may be able to charge above-market prices.
Should the gaming industry challenge the leagues it will have to argue either that the Supreme Court was wrong in American Needle, that collective control over statistics is somehow different than control over intellectual property, television broadcasts and web media, or that the specifics of the leagues' control restrains trade in a way the previous collectivization schemes did not.
Game data isn't like the case involving team logos, however. Inter-team coordination and restraints on competition are not necessary for online gaming products. Consumers currently have choices that they stand to lose. Online gaming providers, competing data aggregators and consumers could challenge this scheme.