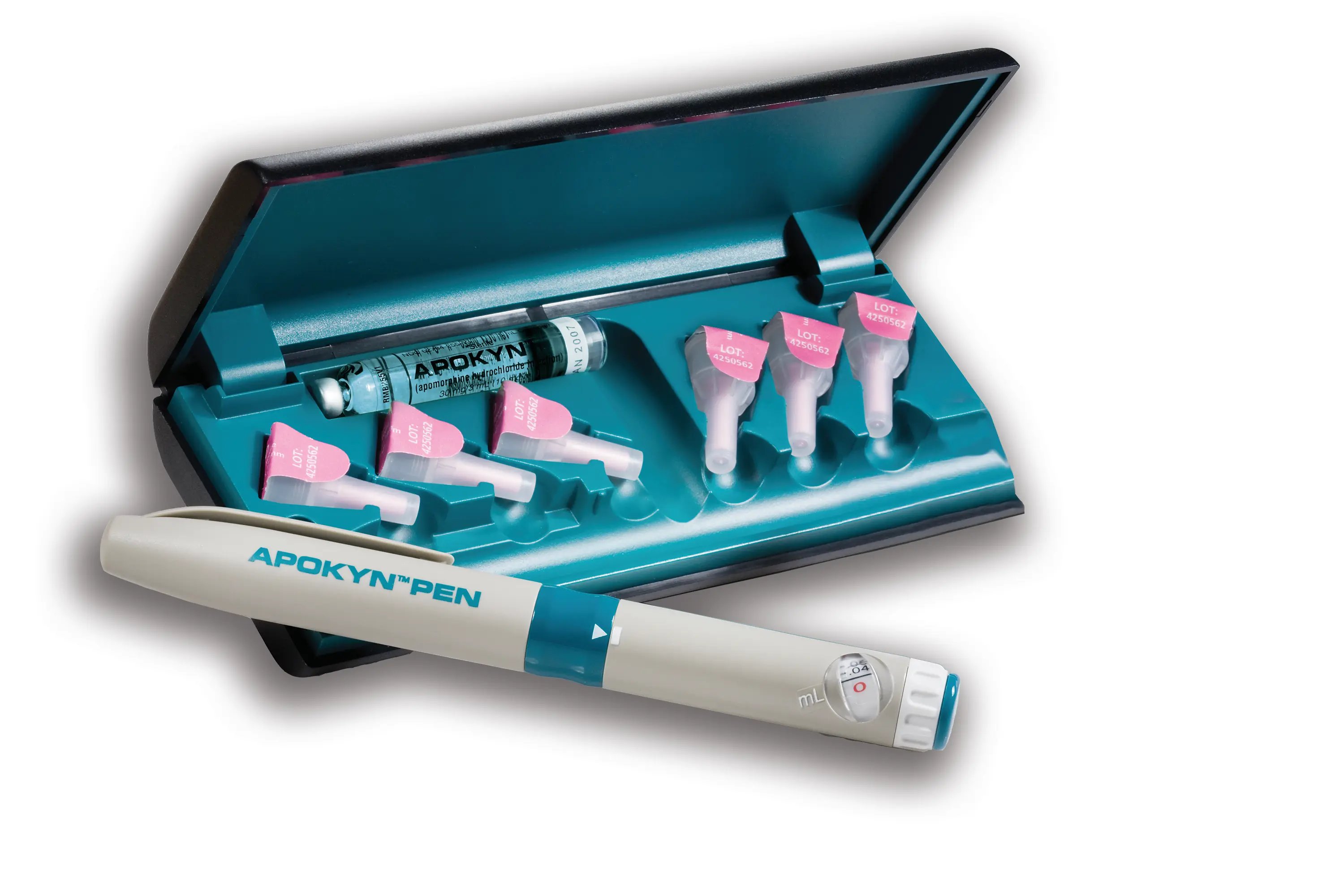 The Federal Trade Commission recently filed an amicus brief in support of a generic drug maker's antitrust case involving Apokyn®, a drug developed to treat late stages of Parkinson's disease. The plaintiffs allege the makers and distributors of Apokyn have unlawfully maintained their monopoly by delaying FDA approval and then market entry of generic alternatives, which harms competition and consumers.
According to the FTC, this case "may have significant implications for patients who rely on apomorphine to treat debilitating symptoms of advanced Parkinson's Disease" and that the amicus brief was warranted "because the strategies alleged here are similar to strategies used by other branded pharmaceutical companies to block generic competition, there is a broader public interest in the legal issues this case presents."
Background
Apokyn is an injectable drug used to treat patients with symptoms of advanced Parkinson's disease. The FDA approved Apokyn in the form of multi-dose cartridges for use with a reusable pen injector. Becton, Dickenson and Company ("BD") supplies the only pen injector currently in use. The pen is packaged separately from the cartridges and can be reused for one year.
In 2018, the plaintiffs filed for FDA approval of a generic bioequivalent of Apokyn that is compatible with the BD reusable pen. The plaintiffs engaged in discussions with BD to supply the pen for use with its generic cartridges, but BD terminated discussions and signed an exclusivity agreement with the defendants that prevents BD from supplying pens to any other company.
In 2022, the FDA approved the plaintiffs' generic cartridges for use with an Apokyn pen, explaining that "[p]atients should first obtain the prescribed Apokyn Pen through a specialty pharmacy" before utilizing the generic product. Shortly thereafter, the plaintiffs entered into contracts with the three specialty pharmacies that distribute Apokyn and all three pharmacies placed orders. All three pharmacies subsequently canceled orders and returned purchases allegedly due to pressure from the defendants.
The market for Apokyn has not performed like most pharmaceutical markets. Typically, when patents expire for a profitable drug, generics quickly enter the market and force prices down substantially. According to the FTC, the first generic is typically offered at a 20-30% discount to the branded drug, and subsequent generics are discounted up to 85%. Generics save patients hundreds of billions of dollars annually and also increase their choices, as A-rated generics typically capture over 80% the given market within six months of entry.
Unlike typical drug markets, Apokyn has not faced meaningful competition and its price is still increasing (more than 30% over the last five years) despite losing patent protection more than a decade ago. Moreover, despite receiving approval and an A-rating from the FDA, the plaintiffs' generic has made almost no sales. According to the plaintiffs, this is due to the defendants' anticompetitive conduct.
On October 3, 2022, the plaintiffs filed their antitrust complaint. The plaintiffs claim that the defendants engaged in a scheme to first delay FDA approval and then prevent market penetration of the plaintiffs' generic bioequivalent.
FTC Amicus Brief
The FTC's brief discusses four of the primary issues raised in the defendants' motion to dismiss. It first explains how the exclusion of generics harms consumers and competition. As stated above, generics provide significant downward pricing pressure and increase choices for consumers. Therefore, by preventing the plaintiffs from entering the market, the defendants deprived patients of substantial cost savings and choice.
Second, the FTC explains the plaintiffs were not unlawfully free-riding by developing cartridges for use in BD's pen. The plaintiffs manufacture a product (generics) for use with a separate product (pens), which is not problematic free-riding according to the Supreme Court. If it were, then companies would often have to enter multiple markets simultaneously – a substantial barrier to entry that should be avoided. Moreover, even assuming the plaintiffs engaged in unlawful free-riding, the Hatch-Waxman Act, which Congress passed to increase the speed at which generics get to market, condones free-riding for generics.
Third, the FTC clarified that exclusive agreements like the one between the defendants and BD can be unlawful when they foreclose a competitor's access to a key input, even if the competitor could theoretically develop an alternative. The FTC analogized this situation to cases in which courts found exclusive agreements unlawful where pharmaceutical companies used them to cut off the supply of a key ingredients for generics, forcing the competitors to spend significant time and resources developing an alternative source.
Finally, the FTC explained there is no per se rule that prevents relevant markets from containing a single brand or single product. Relevant markets are comprised of products with cross-elasticity of demand between them, meaning the product at issue and any product that consumers would switch to if faced with a small but significant increase in price. If consumers have no reasonable substitutes, then the relevant market includes a single brand or product.
Analysis
It is somewhat surprising the FTC decided to file an amicus brief in this case because it is in its early stages and the arguments advanced by the defendants are neither novel nor persuasive.
Apparently, the FTC wants to ensure robust competition from generics in the pharmaceutical industry and protect against bad case law concerning increasingly common misconduct.
For example, the defendants argue the relevant market fails because it includes a single product from a single brand. But this argument has not only been rejected by the Supreme Court and numerous lower courts, but it makes particularly little sense in the pharmaceutical industry. Patents ensure that a single brand's drug dominates a market at least until the patents expire. If relevant markets were required to include multiple products or brands, then dominant branded drugs could escape antitrust liability by simply preventing entry after patent expiration. In this situation, the branded drug would continue to operate in a market with a single product and brand, meaning any plaintiff challenging its conduct would struggle to define a relevant market.
Likewise, the defendants claim the plaintiffs are engaged in unlawful free-riding because they developed cartridges for use in a specific injection pen. But, if the defendants were correct, then app developers would be unlawfully free-riding when developing an app for a specific operating system, video game developers would be unlawfully free-riding when developing a game for a specific console, Nespresso pod manufacturers would be unlawfully free-riding when developing pods for use in Nespresso machines, etc., etc. This is clearly not the law.
While the defendants' arguments were always unlikely to win the day, the FTC's amicus brief should make dismissal even more improbable.