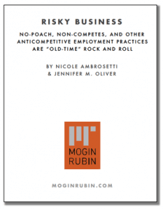 This is an excerpt of a thorough discussion of the issue captured in a 14-page article. Download the PDF.
---
No one wants their most valuable assets taken. For businesses, those assets often include employees, customers, and trade secrets. But employers who try to protect these assets are on notice: anticompetitive agreements related to employment are subject to scrutiny and may result in fines or even criminal charges.
In October 2016, the DOJ and FTC took the extraordinary step of issuing guidelines putting HR professionals on notice that certain practices – including no-poaching agreements – could expose employers to both civil liability and criminal penalties. Similar legislative agendas are popping up.
After one recent study reported that 58% of major fast food franchise agreements include restrictions on the recruitment and hiring of workers currently employed by other units affiliated with the franchisor, a group of U.S. Senators penned a letter to 89 franchise CEOs requesting they discontinue allegedly collusive no-poaching agreements that prohibit franchisees from hiring workers employed by another franchisee. Fast food no-poach agreements were in the spotlight again this month when the DOJ and Washington State Attorney General submitted amicus briefs in three class actions challenging the provisions. While the DOJ has advocated for a rule of reason analysis of no-poach provisions in franchise agreements, the Washington AG is more skeptical, arguing that no-poach provisions in Washington franchise agreements may merit a per se approach.
There has been only one publicly-announced enforcement action since the 2016 Guidelines were released, but antitrust agencies have warned that enforcement will escalate to include criminal charges in the future. Other forms of government enforcement against similar clauses, such as non-competes and non-disclosure agreements, may very well follow.
Enhanced scrutiny of potentially anticompetitive employment practices — and the diminished likelihood that traditional exceptions to anticompetitive employment agreements will rescue employers — means that employers must diligently monitor the language of all employment agreements and competitor communications about the labor force. Internal auditing may reveal opportunities for an employer to seek training and/or outside counsel to avoid pitfalls.
Likewise, outside counsel should include employment agreements in the suite of dangers addressed by antitrust compliance programs and seek the advice of antitrust specialists when in doubt.
Anything less is risky business.