Claiming Comcast Corp. is using its significant buying power and ambitious nationwide acquisition strategy to dominate the lucrative regional sports network industry, Altitude Sports & Entertainment has sued the cable colossus in a Colorado federal court for Sherman Act and Colorado Antitrust Act violations.
Altitude alleges Comcast is deploying "predatory" negotiation tactics to drive it out of business and then raise consumer prices once competition is eliminated. With so much buying muscle in the Rocky Mountain region, Comcast is a monopsony, according to the complaint.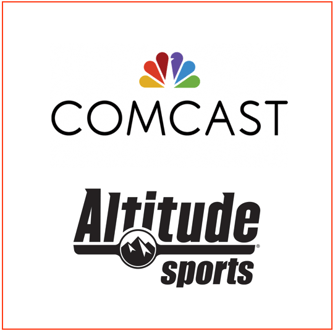 Comcast, which serves more than 83 million American households, has historically licensed from Altitude the rights to air Denver Nuggets basketball, Colorado Avalanche hockey, Colorado Mammoth lacrosse, and Colorado Rapids soccer games. Altitude alleges Comcast is exercising its monopsony power to demand lower licensing fees while simultaneously charging customers higher fees for regional sports coverage. According to the complaint, this fee structure makes no economic sense and is an attempt to drive Altitude out of business. This would allow Comcast to replace Altitude with its own regional sports network.
Altitude appears beholden to Comcast, as Comcast provides cable service to 92% of consumers with cable television (as opposed to satellite) in the relevant market, and has a multichannel distribution market share of 57%, compared to with DirectTV's 25% share. For some viewers Comcast is the only affordable choice, the suit maintains.
Comcast argues the case is without merit. Calling it an "intensely competitive market," Comcast claims it has no competitive regional sports network, or RSN, in the market, whereas Altitude has multiple distribution choices. (Altitude recently reached a licensing deal with DirecTV.)
"Instead of pursuing baseless litigation, Altitude should engage in responsible commercial negotiations that would allow Comcast to distribute its programming to those customers who want it without driving up costs for customers who do not. Since at this point Altitude has rejected all reasonable offers, we have provided our customers with a credit until we reach an agreement," Comcast said in a statement, pledging a vigorous defense. The company's answer is due Jan. 14, 2020.
The complaint alleges:
Comcast has been acquiring RSMs around the country to reduce competition for sports program licensing.
Comcast has been making acquisitions to strengthen control over multichannel television distribution.
Comcast is demanding dramatic price cuts for Altitude's services, while increasing what consumers pay for the feeds.
Comcast charges a fee for Altitude services and also an additional "Regional Sports Fee," which it continued to collect even after it no longer offered programming from Altitude.
If Comcast forces Altitude out of business, then Comcast will take over the market as a "rapid entrant," making it a direct competitor to Altitude for antitrust purposes.
"There can be no doubt that Comcast knows the proposals it has made would put Altitude out of business. Not only has Altitude told Comcast that, but Comcast already knows this because it operates its own RSNs …" Altitude argues. "In FCC proceedings, Comcast has even admitted that the same carriage it would deny Altitude is necessary to the financial viability of an RSN because of the significant cost of acquiring sports telecast rights in agreements that reflect the widespread popularity and value of this programming. The terms proposed by Comcast to Altitude make no economic sense unless Comcast's aim is to use its monopsony power to eliminate Altitude so that Comcast will control sports programming—both regional and even some national coverage—in the Denver [designated market areas], just as Comcast has done elsewhere."
As evidence of its alleged scheme, Altitude lists some of Comcast's mergers and acquisitions during the last 20 years:
2001 -- Comcast acquired AT&T Broadband and became the largest cable television company in the United States.
2005 -- Comcast continued to accumulate market power by purchasing Susquehanna Communications.
2005 -- Comcast teamed with Time Warner Cable to purchase the assets of another competitor, Adelphia Cable.
2011 -- Comcast began purchasing shares in NBCUniversal and had complete ownership of all of NBCUniversal and its subsidiaries by 2013.
Senators are watching Comcast and Regional Sports Networks.
Comcast recently caught the attention of U.S. Senators Susan Collins (R-ME) and Dianne Feinstein (D-CA), who have urged the Department of Justice to investigate Comcast's decision to charge $12 extra for cable-TV channel Starz.
The regional sports network industry is also facing antitrust scrutiny from lawmakers. Sinclair Broadcasting intends to acquire 21 Fox regional sports networks from Disney for nearly $10 billion. These regional Fox sports networks televise professional baseball, basketball and hockey games that reach 74 million subscribers and own the television rights for nearly half of all teams in three of the four major leagues.
The Sinclair deal has drawn attention from several prominent Senators. For example, Senators Elizabeth Warren (D-MA), Cory Booker (D-NJ), and Bernie Sanders (D-VI) sent a letter to both the FCC and the DOJ, saying:
Sinclair now owns nearly two dozen RSNs and "could market to distributors combinations of sports and local television channels that they have to offer to consumers as a bundle package."
With only a limited number of unbundled live sports programming options available to consumers, distributors can "tether" sports fans to programming bundles.
"[T]he agreement with Disney offers Sinclair an opportunity to charge consumers more by packaging their cable and broadcast programs."
The third player in the regional sports network game is AT&T Inc. According to a Bloomberg News report from June, however, AT&T is considering selling its regional sports networks "as part of a plan to cut as much as $8 billion in debt by the end of the year."
Unique monopsony allegations of a two-step scheme.
Disputes between networks that own sports broadcasting rights and TV providers are nothing new. For example, millions of Los Angeles residents have been unable to watch Dodgers games for the last five years because several cable operators have refused to carry the SportsNet L.A. Dodgers Channel. This dispute led to a DOJ antitrust action against DirectTV and several of its competitors alleging that they conspired to decrease the risk of losing customers as a result of not carrying the Dodgers Channel.
But this suit is unique, as it alleges Comcast is exercising monopsony power to conduct a two-step scheme to monopolize the relevant market by forcing Altitude out of the market by offering unsustainable prices and then replacing Altitude with its own regional sports network. The facts as alleged tend to support Altitude's claim.
Comcast is the dominant TV provider in the Rocky Mountain region, controlling 92% of consumers with cable television and 57% of consumers with multichannel distribution (cable or satellite). The complaint says Comcast is using that market power to force Altitude out of the market through lower payments and removing it from its basic cable package – neither of which are imposed by Comcast on its own regional sports networks that it operates around the country. It is reasonable to infer that Comcast will install its own regional sports network if Altitude is forced out of the market based on the facts Comcast owns several regional sports networks around the country, owns the broadcast rights to some sports that air in Denver (i.e., certain Colorado Avalanche games), and previously operated a sports network in this region (the Mountain West Sports Network).
It is also reasonable to infer from Comcast's recent pricing practices that it will implement monopoly pricing if possible.
Comcast has significantly increased the price its customers pay for Altitude in recent years without a similar increase in cost for Comcast to provide the network. Comcast also recently overcharged its customers by continuing to charge them a "Regional Sports Fee" even while Altitude was blacked out, i.e., Comcast charged its customers a fee for content it was not providing.
Comcast predictably called the allegations meritless and said it will vigorously defend against them. But Comcast has good reason to settle this action quickly, which presumably would stem from an agreement with Altitude on licensing fees. Not only is Comcast facing antitrust scrutiny from lawmakers, but so is the regional sports network industry in general. And given the relatively strong set of facts alleged by Altitude in its initial complaint, Comcast faces a real risk of an adverse motion to dismiss and/or summary judgment ruling that could condemn prior, current, or future actions by extension.
Edited by Tom Hagy for MoginRubin LLP.