After a 25-year business relationship, Anheuser-Busch InBev Worldwide, Inc. (ABI) has agreed to acquire the Craft Brew Alliance (CBA). ABI currently owns about 30% of the outstanding shares of CBA and has agreed to purchase the remaining 70% for $16.50 per share, equal to roughly $321 million. The merger is subject to both review by the Federal Trade Commission under the Hart-Scott-Rodino Antitrust Improvements Act and by the Antitrust Division of the U.S. Department of Justice pursuant to the consent decree that allowed ABI to acquire SABMiller in 2016.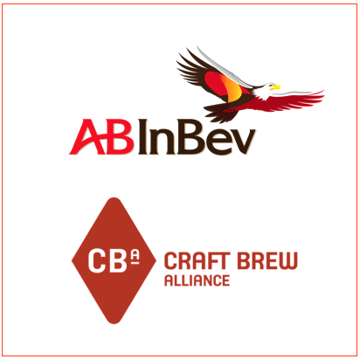 Andy Thomas, CEO of CBA, sees nothing but upside in the deal. "By combining our resources, our talented teammates, and dynamic brands, we will look to nurture the growth of CBA's existing portfolio as we continue investing in innovation to meet the changing needs of today's beverage consumers, all while delivering certainty of value to our shareholders," Thomas said. Most of the brands owned by the Portland, Oregon-based company are already distributed through ABI's independent wholesaler network.
While many beer drinkers fear that "Big Beer" will ruin craft products, ABI CEO Michel Doukeris said his company has a history of working with craft beer partners "to help make the U.S. beer category stronger and more vibrant." He said the company will support CBA in bringing new products to market. If the deal goes through, CBA will join ABI's Brewers Collective, a group of craft breweries that ABI has acquired primarily over the last 5 years. The company says it has invested more than $130 million in its craft partners, allowing them to expand production volume by an average of 31 percent.
The craft beer explosion.
The U.S. has witnessed an explosion in the number of craft breweries in recent years. Ten years ago, there were 1,600 craft breweries. Now, there are more than 7,400. According to the Brewers Association, the U.S. craft beer industry generated $10.1 billion in revenue in 2011 and $27.6 billion in 2018. That far surpasses the domestic "premium beer brand" market, which generated $12.6 billion in revenue in 2018. ABI, maker of Budweiser and Michelob, is the leader in the U.S. with $7.3 billion in sales in this segment.
CBA started production in 2008. Today it owns the Kona Brewing Company and several smaller regional breweries, including Appalachian Mountain Brewery, Cisco Brewers, Omission Brewing Co., Redhook Brewery, Square Mile Cider Co., Widmer Brothers Brewing, and Wynwood Brewing Co. CBA says it is the seventh largest craft beer company in the U.S. According to its current 10K, CBA generated $217.2 in sales in 2018. Kona Brewing alone was the sixteenth largest craft brewer, generating $63 million in revenue. The top three brewers in this category are Blue Moon ($338.16 million), Samuel Adams ($263.91 million), and Sierra Nevada ($247.6 million).
ABI is replacing market share through acquisitions.
The U.S. beer market is dominated by ABI and MillerCoors. But their flagship beers -- Budweiser, Bud Light, Miller, Coors -- have been steadily losing popularity for the last 15 years. Inversely, craft breweries have enjoyed an increase in popularity over the same period.
Unwilling to relinquish market share and the corresponding market power, ABI has become a serial craft brewery acquirer, purchasing the following 14 craft breweries since 2011: Goose Island (March 2011); Blue Point (February 2014); 10 Barrel (November 2014); Elysian (January 2015); Golden Road (September 2015); Breckenridge (Dec 2015); Four Peaks (December 2015); Devils Backbone (April 2016); Karbach (November 2016); Veza Sur (April 2017); Wicked Weed (May 2017); Virtue Cider (September 2017); Platform Beer (August 2019); and now CBA (announced November 2019).
ABI's actions demonstrate how a dominant firm in a highly concentrated market can entrench market power through a series of relatively minor acquisitions that individually may not merit significant antitrust scrutiny. For the last several years, ABI's core products have been precipitously losing market share to craft breweries. Rather than compete, ABI has acquired numerous craft breweries once they reach a certain level of market penetration. As a result of these acquisitions, ABI has largely been able to retain market share and power. This is significant, as one of the "unifying theme[s]" of the DOJ's Horizontal Merger Guidelines is that "mergers should not be permitted to . . . entrench market power or to facilitate its exercise."
Statistics provided by Statista, based on data from the Brewers Association.
Edited for MoginRubin LLP by Tom Hagy.